In the time of social isolation, gardening can be a great activity for getting outside and enjoying the beautiful weather. Here are some gardening trends to get excited about and try for yourself!
1. Vertical Gardening
No matter how much or how little space you have, there are some creative methods for incorporating a garden with your home. One of preferred methods to maximize available space is to leverage a vertical garden. Some ideas can include
Setup wall planters in your kitchen with your favorite cooking herbs
Assemble a planter wall along your fence
Use wrought iron plant rings to elevate planters on you porch or balcony
2. Turn to Tech for Houseplants
Houseplants are great addition to any home and are recognized for their mood improving and decorative contributions. However, not everyone has a green thumb for indoor gardening. Here are some technological ideas that can help.
Be sure to consider if there is appropriate lighting. This includes a combination of technologies. First, you can use your smart to check how much light is available by using an app to see how much light is available from a specific light source. One such app is the Plant Light Meter. After checking the light source, if necessary, consider adding an additional light source to ensure that your plants get enough energy to grow.
If you are a busy beaver and occasional miss a watering, then worry no more. Consider a self-watering pot or globe that can be re-filled less frequently.
3. Composting
While this is not a new invention or a revolutionary concept, composting is a movement that is continuing to grow in popularity. Composting is a great method for maintaining a self sufficient garden along with the below benefits
It reduces carbon footprint
It provides natural nutrients to your garden
It can be done by anyone and in either large or small quantities. Every little bit helps
You can explore some composting essential tips at https://www.gardendesign.com/how-to/composting.html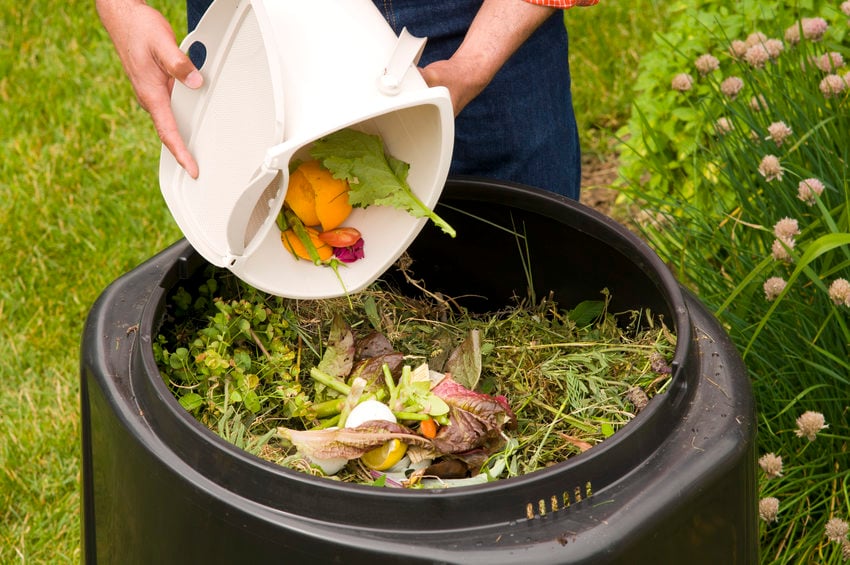 4. Repurposing or DIY projects
DIY projects provide a great family activity while providing flexibility to really make your garden your own that pre-fab solutions may not provide. In addition to the hundreds of DIY options that are across the world wide web, here are some possibilities for repurposing some of your old garden features or household pieces.
Use a broken bird bath as a flower planter
Use an old picture frame as a hanging planter
Use a letter holder/organizer for succulents
Still have that vintage sink in the basement? Try using it as a wall planter
5. Add a Water Feature
Gardens are not only useful for self sufficient food supply. They are also amazing places for getting some rest and relaxation. The beautiful colors and scents offer natural methods to get away from the everyday stresses. A great addition to any garden retreat is a water feature. Water features could be accomplished by water fountains or bird baths a plenty. Water fountains are great for providing a consistent feature that is pleasant to watch and listen to. Bird baths are a great addition as decorative pieces and also for inviting bird songs into the garden.
6. Go for Low Maitenance
Consider perennials that need less attention and do not need to be replanted each year. Such plants could include daylilies, bleeding hearts, and lady's mantle among others.
Look to blooming shrubs and trees are popular additions as they provide visual stimuli and require little effort to grow and maintain.
Mulch is a great way to reduce effort in the garden. It helps control moisture evaporation, gives a healthy appearance, and helps prevent weeds. Further, we combine the benefits of mulching with the benefits of composting. By using bark, pine needles, and shredded leaves they form an organic mulch that will decompose over time and provide needed, valuable nutrients back to your garden. Save some during the warmer months and add it to the garden in the winter time to help control soil temperatures.
7. Include Plant that Offer Multiple Benefits
In the spirit of low maintenance gardening, it has become more common to include plants that are more than just good looking. Plants have a lot to offer beyond good looks. Consider including some plants that offer;
Cooling effects. You could plant a tree that partially blocks the sun to keep you home cooler. You could build a trellis and use a quick growing vine to provide coverage for your patio.
Mosquito repellent. Citronella is a popular option that provides great ground cover while providing a pleasant scent that acts as great insect repellent. Other options include lavender, marigold, and catnip among others.
8. Use the Garden for Dinner Parties
While growing your own food grows in popularity, it has begun to merge with outdoor with outdoor entertainment. Hosts will take their guests to the garden to pick their own ingredients and make the meal together. This can range from making sauces over pasta, to using fresh herbs in cocktails.
No matter what you do or how, gardening is a great way to get out of the house and unplug for awhile. Enjoy and come back for more tips and trends.
Citations:
Image from